Emergency Phone Dialing
Emergency Voice Broadcasting Systems

Broadcast Emergency Messages To Your Community
Database Systems Corp. (DSC) provides a CARE telephone reassurance phone system that contacts seniors and latchkey children who are home alone. Calls are made to these CARE subscribers to ensure their well-being.

DSC is also a recognized leader in providing computer phone systems and automated phone services. DSC provides turnkey phone systems for small to large emergency notification phone centers.

The CARE PRO system can also provide emergency voice broadcasting that contacts emergency staff as well as the community at large. Features include our easy to use Wizard that leads you step by step through the definition of your emergency broadcast phone applications.

Contact DSC to learn more about our CARE phone system with emergency voice broadcasting features. If your community needs to provide a large volume of emergency phone calls, consider community alert services that we provide from our secure call center.


---
BASF: The Chemical Company
"BASF is the world's leading chemical company: The Chemical Company. Its portfolio ranges from oil and gas to chemicals, plastics, performance products, agricultural products and fine chemicals. As a reliable partner, BASF helps its customers in virtually all industries to be more successful. With its high-value products and intelligent solutions, BASF plays an important role in finding answers to global challenges, such as climate protection, energy efficiency, nutrition and mobility."
- www.basf.com

BASF selected Database Systems Corp. to provide automated calling and phone communications services. BASF utilizes our emergency dialers and calling services which are located in our Phoenix call center to contact its members and staff during various types of emergencies.
---
Emergency Dialer Supports 4 - 1000 Phone Lines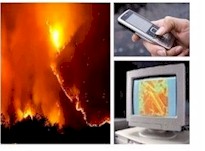 The PACER digital phone dialer from DSC supports up to 500 phone lines per system. These systems can likewise be networked, so the dialing capacity is limited only by the capacity of the public exchange of the community being contact.

If your community call center requires a larger capacity than our analog phone systems provide, your phone applications can be easily transfered to this multiple T1 emergency dialer.



Analog Emergency Broadcast Features
4, 8, or 12 Analog Line Configurations
Industrial Quality PC (Monitor Optional)
Intel/Dialogic Telephony Card(s)
Windows OS
DSC Phone Software
Multiple Voice Broadcast Programs
VB Wizard Software
Touch Phone Navigation
Information Service
Call Recording
Message Forwarding
Easy Upgrade to T1 PACER Systems
Options and Upgrades Include:
Customized Voice Broadcast Programs Using IVR Wizard
Inbound IVR functionality
LINUX, Unix, Windows Development Kit
Custom VB Application Development
XML Push Voice Messaging
Professional Voice Over Messages
CRM Expansion Option with Agent Support
Easy Upgrade to PACER Systems with T1 Phone Lines
Call Us Today
Contact DSC to learn more about our emergency dialers and telephone reassurance phone systems.



CARE Information
RUOK® Program Comparison
RUOK® Replacement
Elder Care
Telecare
Are You OK?® Comparison

Telecare Services
Emergency Dialing
Telephone Reassurance
Senior Services
Telecare Phone Systems
Call Latchkey Kids
Phone Reassurance
I'm OK Calling
Call Verification
Call Elderly
Elderly Care
Phone Reassurance
Buddy System
Reassurance Calling