Database Systems Corp.
Copyright and Trademark Registrations
Federal and State Registrations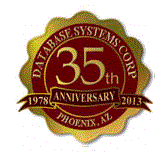 CARE® (Call Reassurance) is a telephone reassurance program developed by Database Systems Corp. (DSC). This program contacts the elderly and handicapped ensuring their well-being.
DSC has registered from time to time different product names with the State of Arizona and also with the Federal Government. This website lists some of the relevant trademarks including the dates of registration and the exact trademark name.
Database Systems Corp. has also filed a Copyright Registration with the federal government for all of its websites including callingcare.com. Any content that is taken from this website without the express written approval of Database Systems Corp. will be treated as a Copyright Violation and DSC will enforce its ownership right to the fullest extent of the law. Fines of up to $150,000 may be imposed for the unauthorized copying of content including charts, graphs, written content and images.
Trademarks and Copyrights
Database Systems Corp. Websites. Federal Certificate of Registration, US Copyright Office Reg TXu1-295-442, Recorded Date Feb 1, 2006.
Call Reassurance®. Federal Trademark Registration, U.S. Serial Number 77506901, Registration Date 4/14/2009.
CARE (Call Reassurance)™. Arizona Department of State Registered Name - File ID 545408, Registration Date 5/1/2006.
CARE®. Federal Trademark Registration, U.S. Serial Number 85-843,481, Registration Date 7/2/2013.
eCARE™. Arizona Department of State Registered Name - File ID 564537, Registration Date 1/30/2013.
---
Fair Use Of Database Systems Corp. (DSC) Trademarks
"Fair use" of DSC trademarks, that is, use by a third party without express permission or license, is limited to text-only references to DSC trademarks such as product and service names and excludes any use of graphics or logos found on DSC websites.
In such references, you must be truthful and must not mislead the public. You must be clear and accurate as to the nature of the relationship between DSC and your company, its products, and its services.
The first use of each DSC trademark name mentioned in communications such as marketing material or your website must be identified in a footnote or attribution. The attribution must be located either on the page/screen where the trademark is used, or in the legal section of the communication or site in which it is referenced. Please note that laws concerning use of trademarks or product names vary by country. Always consult a local attorney for additional guidance.
Database Systems Corp. Business Location And Mailing Address
Office Address:

Database Systems Corp.
2550 W. Union Hills Dr. Suite 350
Phoenix, Arizona 85027

Mailing Address:

Database Systems Corp.
P.O. Box 11990
Glendale, AZ 85318

(602) 265 5968

---

CARE Services
Reminder Call
Latchkey Kids
CARE Volunteers
Community Alerts