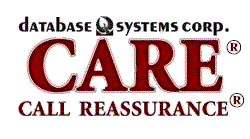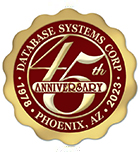 RUOK® Replacement System - CARE® (Call Reassurance®)
Database Systems Corp. (DSC) is a leading provider of automated phone systems and software for several decades. This technology includes computer telephony software solutions and phone systems. DSC has developed and markets a telephone reassurance program called CARE. This modern program checks on the well-being of seniors and home alone residents.

In the late 1980's, a company called Northland Innovation developed a DOS based program called RUOK® that used a PC and modem to make telephone reassurance calls. This program has now become obsolete and unsupported. CARE was designed and developed in 2005 by DSC to replace these obsolete systems, but with the added benefit that CARE now provides features that make it far superior than its original counterpart.

Note: Northland has subsequently attempted to convert this program using an outsourced contractor to a Windows operating system. However this product has been installed with very limited success. (See client profile below).

For a comparison with our CARE system, please visit our RUOK® vs CARE web page.

Contact DSC to learn more about our CARE phone systems and telephone reassurance services.
---
What Is Telephone Reassurance?
A Telephone Reassurance program is defined as the following:


"Telephone Reassurance is the common name for a service offered by many local communities that contacts the elderly or handicapped on a daily basis using a phone service. These residents are called to ensure their well being and the service is provided for community members without family or who need temporary monitoring during times when they have limited mobility.

Traditionally, volunteers from the community would call these homebound individuals to check on their well being. Some communities provide additional "friendly chat" as well as the reassurance.

More and more communities are providing an automated telephone reassurance program that uses an autodialer to call the homebound resident and checks to ensure that an individual answers the phone. These systems include an IVR that allows the call recipient to provide a positive response to the phone call to ensure their well being. If the call is not answered, the system can automatically call a family member (if available) or a commutity service organization such as the police or fire department.

Most of these community services are free to the resident. Many state and private organizations provide funding for such programs."
CARE Demonstration
Manage your CARE telephone reassurance program online. The following is an example of how to use our CARE Call Reassurance system.




This demonstration shows how CARE recipients are added to our system for calling and how a CARE system administrator can monitor the ongoing operation of our phone reassurance system.

To view this demonstration, click the graphic above.
Contact Us Today
Contact DSC to learn more about our call reassurance services and phone systems.


Note
* "Are You OK?"® and RUOK® are registered names of Bruce L Johnson (Individual).

CARE Information
Telecare
Elder Care
Telephone Reassurance System

Senior Services Information
Telephone Reassurance Programs
Senior Services
Telecare Phone Systems
Call Latchkey Kids
Call Verification Service
Call Elderly
Elderly Home Care
Buddy System
Reassurance Calling Program