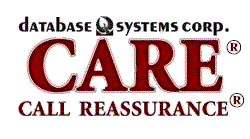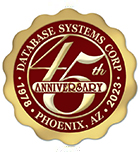 Telephone Reassurance Program
Automatically Check Well-Being Of Senior Citizens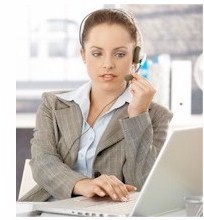 Database Systems Corp. (DSC) has been a leading provider of computer related products and services since 1978. DSC develops call center phone systems and computer telephony software plus offers complete phone related outsourcing services.

One of our most important products and services is our CARE program. This telephone reassurance program that assists elderly and homebound residents. CARE members, who subscribe to this service through their local police or fire departments, are called on a regular basis to ensure their well-being.

If the CARE recipient does not answer this phone call, our system automatically generates an emergency alert to either the CARE phone center or to a concerned family member. The CARE call center is continuously updated to ensure a follow-up is performed and that the CARE recipient is OK.

Contact DSC to learn more about our Telephone Reassurance systems and services.


---
Rankin County Sheriff's Office

"Rankin County is one of the fastest growing counties in Mississippi. Located east of Jackson (the capitol) and Hinds County, Rankin County has a population of more than 119,000. About half rural and urban, the county has seven incorporated cities: Brandon (the county seat), Florence, Flowood, Pearl, Richland, Pelahatchie and Puckett. The county has an area of 795 square miles and may be thought of as a 'bedroom' community environment to Jackson."

- www.rankincounty.org

Rankin County Sheriff's Office uses the CARE telephone reassurance system from Database Systems Corp. to provide its senior citizens with a phone reassurance service. Citizens can be called daily free of charge to ensure their well-being.
---
Telephone Reassurance Phone Features
Our CARE (Call Reassurance) system includes the following features. These same features are also available with our telephone reassurance outsourcing phone service:
CARE calls are placed by a computer that plays a recorded message
CARE does NOT need volunteers to make phone calls
CARE recipients use IVR phone keys to respond or optionally simply answer the call
CARE calls can be placed at designated times with a CARE Administration scheduler
CARE system can detect answering machines and distinguishes the difference between live answers and machines
Calls can be repeated several times before notifying response center or family member
Response center or private individuals can be automatically alerted when No Answer determined
CARE systems can perform emergency dialing services for members of the community
CARE systems can be used to perform emergency notification calling
The CARE computer system is an industrial quality Intel based PC
CARE phone systems include INTEL telephony components
Systems support 1-48 analog phone lines
Systems can be upgraded to our digital (PACER) phone supporting up to a 1000 lines
Service provided on a network of phone systems for large volume calling
Response center can be notified by call, email, or other electronic methods
Online call reports available giving status of each call
Telephone Reassurance Program Demonstration
Let us show you how to manage your telephone reassurance program online. Here is a brief demonstration of our CARE telephone reassurance program.




This presentation shows how CARE recipients are added to our system and how a CARE system administrator can monitor the ongoing operation of our phone reassurance system.

To view this demo, click the graphic above.
Telephone Reassurance Information
Contact DSC to learn more about our telephone call reassurance services and phone systems.



CARE Information
RUOK® Replacement
Telecare
Latchkey Children
Elder Abuse
Senior Care
Elder Care

Telephone Reassurance Information
Telephone Reassurance Programs
Senior Services
Elder Care Calling Service
Telecare Phone Systems
Call Latchkey Kids
Call Verification Service
Call Elderly
Elderly Home Care
Buddy System
Senior Care Systems
Reassurance Calling Program