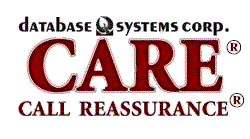 The following article appeared in the AZCentral.com. This article relates to the purchase of a CARE (Call Reassurance) phone system from Database Systems Corp. to replace its outdated RUOK® phone system from Northland.
Surprise Upgrades Call Reassurance Program For Elderly
Town sponsored CARE program checks on residents' well-being



by Lily Leung - Dec. 23, 2008 10:06 AM
The Arizona Republic

"The Surprise Police Department recently upgraded a call reassurance program that played a key role in sending help to an elderly woman who fractured her arm and was unable to get up after a fall.

Previously known as RUOK, the "We Care" automated service makes prearranged calls to homebound and vulnerable seniors to check on their welfare at a specified time of their choosing.

If the participant doesn't answer after three tries, then a police dispatcher sends a police officer or a volunteer Citizens Patrol member to the residence. The new system uses Intel products that can detect the difference between an answering machine and a live, answered call, according to the product's Web site, www.callingcare.com. As a result, those on the calling list do not have to turn off their answering machines.

"The 'We Care' program is what we feel can provide participants and their loved ones a little peace of mind that someone is checking on them and making sure they are all right," said Chris Tovar, a Surprise police senior-service officer. "We feel the program will be a more reliable and user-friendly program. Feedback from current participants has been very positive."

The system's reliance was proven in September, when police volunteer Bud Prokop was dispatched to check on an 88-year-old Surprise woman after she did not answer a phone call.

A call to the participant, whose name was not released, was placed every day at 9:30 a.m. When she didn't pick up the phone on Sept. 1, the system alerted police, who sent Prokop to check on her.

When Prokop arrived at the Happy Trails Adult RV Resort about 9:45 a.m., he found the woman lying on the floor with a fractured arm. He requested medical help, and police said the woman eventually was taken to a hospital.

In place for about two years, the call-reassurance system calls about 20 residents on a daily basis at a time of their choosing. The program and its equipments are products of Database Systems Corp., a central Phoenix-based company.


---
CARE Phone Systems
IN 2005, Database Systems Corp. introduced an affordable and expandable autodialer that is the heart of our CARE call reassurance program.

This automatic calling system includes our CARE editor and administrator utilities that let you manage your telephone reassurance program efficiently.

These systems are delivered as turnkey solutions. However, our experienced staff can customize your telephone reassurance program and emergency broadcasting applications.

DSC also provides a digital phone system (PACER) when your call volume requires a larger system.
---
CARE Information
Contact DSC to learn more about our CARE services and phone systems.


---
Telephone Reassurance Articles


"Are You OK?"® and RUOK® are registered names of Bruce L Johnson (Individual). For a comparison with our CARE system, please visit our RUOK® vs CARE web page.

CARE Information
RUOK® Replacement
Elder Care
Life Check
Telecare
Home Alone Kids
Telephone Reassurance