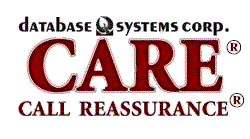 The following article appeared in The Rock Island News, Illinois. This article relates to the purchase of a CARE (Call Reassurance) phone system from Database Systems Corp.
RICO will check in on seniors via telephone
Posted: 2007, The Rock Island News, Thomas Geyer

Rock Island County board members approved funding Tuesday for an automated calling system that will check on the welfare of elderly people signed up for the service.

The board will purchase CARE or Call Reassurance system.

The system will be a county-wide 24-hour automated system that will call participating seniors to check their welfare and assure their safety.

"We will order the software and hardware as soon as possible," said Rock Island County Sheriff Mike Huff. "Once we get it integrated with our own system and get training from the company, we'll begin the program. We hope to have it operational by the end of the year."

Huff said the system is completely voluntary and there are no fees to pay.

"We will call them at whatever level of comfort they want," he said of the seniors who sign up for the program. "If they have no one to check on them we may recommend a daily call. If they have home health care Monday through Friday we may recommend only a weekend call.

"They will choose the day or how many days we are to call and at what time or times," he said. "We will have acquired enough information about them, names of their friends, family members, their doctor and medications, that we'll have enough data to do a follow up if necessary that includes sending a deputy to their home."

Call Reassurance is a product of Database Systems Inc., headquartered in Phoenix, Ariz.

According to the company's Web site, the system can send automatic phone messages over multiple phone lines at once. Other options include greeting messages that can either be customized or randomized depending upon what the subscriber wants.

Police or fire departments can be primary or backup responders. And it can connect volunteers, family or friends for non-emergency conversations.

Messages can also include a reminder to take medication.

The Rock Island County system will be run through the Sheriff's Department.

The cost of the system is about $7,000. However, private donors have pitched in $3,000 for the system, including Trinity Health Foundation and Don Ayers and Sons Insurance Agency in Rock Island.

The Sheriff's Department is taking pre-registration applications for the program. Contact the department's elderly services officers, Deputy Frank Weikert or Deputy Jennifer Bebber, at 309-558-3900 for information.

Contact Thomas Geyer at 563-383-2328 or tgeyer®qctimes.com.


---
Telephone Reassurance Information
Contact DSC to learn more about our telephone call reassurance services and phone systems.


---
Telephone Reassurance Articles


"Are You OK?"® and RUOK® are registered names of Bruce L Johnson (Individual). For a comparison with our CARE system, please visit our RUOK® vs CARE web page.

CARE Information
RUOK® Replacement
Elder Care
Life Check Calls
Telecare
Home Alone Kids
Telephone Reassurance