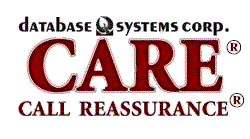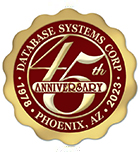 CARE Provider
Odessa Police Department



Database Systems Corp. (DSC) is a leading provider of call center technology including call reassurance phone systems and service. DSC provides services and systems that automatically call households checking on residents to ensure they are OK. This service allows citizens to remain in their homes later in their lives (Aging In Place). CARE can re-dial the number several times and if there is no response, a message can be provided to family members or a monitoring center informing them that a resident is not responding to this call.

Contact DSC to learn more about our telephone reassurance services and phone systems.


---
Odessa Police Department
The following organization provides a telephone reassurance program for its community and residents. The information provided on this page came from the website of this provider. To obtain current information about this provider, please visit the website listed below.



Organization: Odessa Police Department, Odessa, Texas

Type Of Service: FREE - Automated Telephone Reassurance Program

Website: www.odessa-tx.gov

Telephone: (432) 335-5744
Additional Information
"The City of Odessa Public Safety Communications Center is located in the Municipal Plaza in Odessa. The Communications Center is a consolidated (Police/Fire/EMS) Communications Center. The Communications Center employees 27 Dispatchers who are responsible for dispatching police units, fire apparatus and medics to any location requested. Additionally, they are responsible for answering all incoming 9-1-1 calls as well as all non-emergency calls requiring service.

Established in September, 1995, the Communications Center has state of the art equipment, including computers and software, that allow its employees to give the citizens of Odessa and Ector County the best possible service."

- www.odessa-tx.gov

The City of Odessa Police Department were former users of an older RUOK® phone system. The City selected the CARE (Call Reassurance) phone system from Database Systems Corp. to replace this obsolete system with the more modern CARE program.


---
Texas Telephone Reassurance Providers

To view other providers of telephone reassurance programs in the state of Texas, visit our webpage entitled Texas Telephone Reassurance Providers. This web page also highlights volunteer service providers as well as potential grant providers in this state.

Contact DSC to learn more about our telephone reassurance services and phone systems. DSC is also a leading provider of voice broadcasting systems and services as well as emergency notification systems and community alert services.


---


"Are You OK?"® and RUOK® are registered names of Bruce L Johnson (Individual). For a comparison with our CARE system, please visit our RUOK® vs CARE web page.