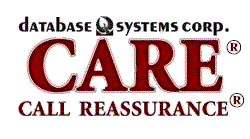 I'M OK Reassurance Program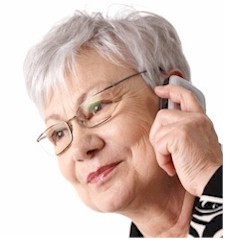 Database Systems Corp. (DSC) provides community calling programs that include reminders and call reassurance programs for seniors and children at home.

CARE systems are usually maintained by local police or sheriff's organizations as well as community service groups. CARE may call subscribers once or more each day to ensure their well-being.

The CARE "I'm OK" answering service also allows seniors to call in each day to announce "I'm OK today". This provides the subscriber more flexibility in their schedule, rather than receiving a call at a fixed time each day.

Our Telephone Reassurance Systems include the latest computer telephony integration technology and equipment.

The CARE system includes an Interactive Voice Response (IVR) that automatically answers phone calls and acknowledge that a senior has called and is OK. This feature is called the CARE I'm OK option. Seniors can enroll in either type of calling program on the CARE system.
What Is CARE?
"Call Reassurance or CARE is an automated phone communications technology that calls seniors and homebound residents to ensure their well being. These calls are daily checks for citizens who are living alone and wish to be contacted in case something happens to them and they are unable to request emergency assistance on their own.

Seniors subscribe to this service in their local communities which have CARE systems. Subscriptions vary among communities, but most are free to the CARE recipients."
The IMOK feature of CARE reverses the traditional calling process. Seniors can now call an automated phone answering system on a daily basis which can use the Caller ID to identify the senior. If the senior calls from a different phone, the CARE system prompts them to enter their phone number.

If the senior fails to call the CARE system by a certain time, CARE will call the resident's home to see if they are OK.

If there is no response to the call, an emergency alert is generated.
$5 Trial For Individual Service
Besides CARE systems used by communities and service organizations, Database Systems Corp. provides a senior calling service directly to individual citizens. This service calls subscribers to ensure they are OK or to remind them to take their medications.

DSC partners such as senior community centers and law enforcment organizations can provide this daily check up calling service to their communities using our eCARE program. The following individual calling programs can be performed using our daily calling service.
Call Reassurance - Senior calling service
Latchkey Kids - After school call service
Reminder Calls - Send Reminders
Emergency Calls - Broadcast emergency message

Signup Today using our online registration form. Our online enrollment is easy, yet it provides the senior with flexible calling schedules, custom messages and greetings, as well as multiple emergency contacts in the event of no response by the subscriber.
Laguna Woods Village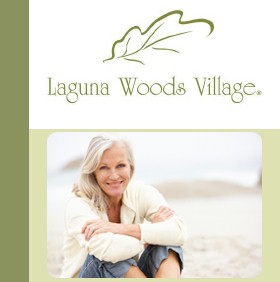 "Laguna Woods Village is situated in the beautiful Saddleback Valley of Orange County, Southern California, only 10 minutes from Laguna Beach and the Pacific Ocean. This area enjoys one of the world's finest climates.
The 18,000 residents of Laguna Woods Village are proud of the fact that no other community in the country offers so many advantages. Nowhere else will you find the combination of distinctive and gracious living, convenience to shopping, houses of worship and cinemas, complete recreation and social facilities and thousands of friendly, active people." - www.lagunawoodsvillage.com

The Laguna Woods Village uses our CARE IMOK reassurance calling service to provide its senior citizens with a means to let their loved ones know that they are OK. Senior citizens call daily to announce their well-being.
---
CARE I'M OK Features
Seniors who enroll in a CARE program can use the IMOK feature in the following manner:
"I'm OK" Enrollment

Seniors enroll by contacting the CARE provider organization
The Senior's contact number is provided along with other information
Emergency contact phone numbers / emails are also provided
The Senior is provided the CARE phone number to call

Senior Calling Procedure

Senior calls the CARE phone number each day
CARE phone system IVR answers these calls from the senior
CARE verifies the Caller-ID and verifies that the subscriber is OK
If no Caller-ID or call is made from a different phone, senior enters phone number
If the call is not made by a designated time, CARE automatically calls the senior
CARE may require a positive acknowledgement by phone key

CARE Alerts

If there is no answer, CARE automatically notifies family or friends
An alert is sent to the CARE phone center
CARE center dispatches an officer or response member to the senior's home
CARE Demonstration
Your CARE phone reassurance program can be managed online. The following is an example of how to use our CARE telephone reassurance system.




This demonstration shows how CARE recipients are added to our system for calling and how a CARE system administrator can monitor the ongoing operation of our phone reassurance system.
Additional CARE Information
Contact DSC to learn more about our CARE call reassurance services and phone systems.