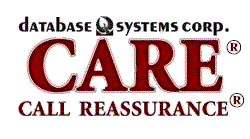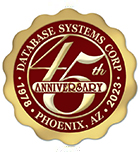 CARE Daily Calls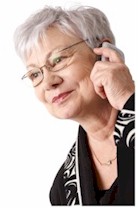 Database Systems Corp (DSC) has been developing and marketing technology products since the late 1970s. DSC has developed a phone system called CARE , which is an abbreviation for our Call Reassurance application. Our CARE program calls individuals who are alone at home to check on their well-being.
CARE Phone Systems have been provided to local police and sheriff's offices throughout the country for several decades. Since 2008, DSC has been providing Care Services that individuals can subscribe using our online registration process. Once enrolled, these individuals can receive their daily calls. DSC also provides an eCARE Community Service that allows law enforcement and community groups to enroll individuals within their community and receive CARE calls.



Daily Call Solutions
The following summarizes the various CARE telephone reassurance products and services provided by DSC.

Contact DSC to learn more about our CARE phone systems as well as our eCARE phone service.
---
CARE Individual Calling Service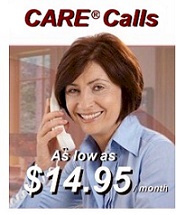 Besides CARE systems used by communities and service organizations, Database Systems Corp. provides a senior calling service directly to individual citizens. This service calls subscribers to ensure they are OK or to remind them to take their medications.
DSC partners such as senior community centers and law enforcment organizations can provide this daily check up calling service to their communities using our eCARE program. The following individual calling programs can be performed using our daily calling service.
Call Reassurance - Senior calling service
Latchkey Kids - After school call service
Reminder Calls - Send Reminders
Emergency Calls - Broadcast emergency message
Signup Today using our online registration form. Our online enrollment is easy, yet it provides the senior with flexible calling schedules, custom messages and greetings, as well as multiple emergency contacts in the event of no response by the subscriber.
eCARE Community Organization Service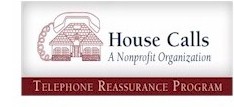 DSC provides a calling service for community service organizations called eCARE. This online service is a calling program that contacts individuals at home to ensure they are OK. This service is ideally suited for small to medium communities where there are a limited number of seniors enrolled.
Police and Sheriff's organizations as well as other senior communities can benefit from this service. Instead of managing computer systems, modems and telephone lines, administrators can focus on the enrollment and management of seniors within the community. Administration can be performed on any device that has internet access from virtually any location.
Senior citizens can enroll in this program through local community organizations such as their police or county sheriff's office. Enrollment is easy, yet it provides the senior with flexible calling schedules and multiple contacts in the event of an emergency.
Rather than using a dedicated phone line attached to your computer, eCARE calls are made from a bank of phone lines maintained at our call center. Considering the cost of today's phone lines, several seniors could be called with just that savings alone.
No phone line(s) or monthly phone bills.

No software licensing or maintenance.

No computer and telecom need be purchased and maintained.

eCARE is a service that uses our computer phone systems and software to place calls to seniors living at home alone. The senior is instructed to acknowledge the call using the "Press 1" option on the phone keypad. If the call is not answered or the senior does not acknowledge the call, an alert sequence is initiated that calls or emails family or friends of the senior. If the senior has no one to check in on them, the calls and alerts can be sent to the eCARE management center which is typically the local police or sheriff's office. An alert is also posted online informing the center that the senior did not respond.
Create Your eCARE Account
If your organization is a police department, sheriff's office, or any other non-profit community group, you can create and manage your eCARE account for free using our online registration process. With this account, you can enroll seniors and other community members using various different profiles:

Click on the Create eCARE Account link below.

Enter your organization's name, a valid email address along with your own password, and we will establish your eCARE account. eCARE can now be used as your primary calling program for seniors in your community or can be a backup to any other system that is currently making these calls. eCARE is a pay-as-you-go service and you only pay for the calls that we make.

You can now login and begin enrolling your seniors. For information about how to enroll members of your community, visit our eCARE Registration Info web page. Once you fund your account with a minimum of $25, eCARE will begin calling your activated enrollees according to the dates and times you establish for each senior.
CARE Phone Systems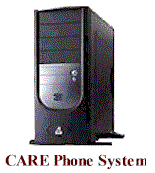 The CARE phone system is the latest generation in telephone reassurance programs and is one of the most important products that DSC provides to communities and senior service organizations.
CARE phone systems are widely accepted by many communities and are managed by city and county police departments or other public service CARE organizations.
Unlike older generation telephone reassurance systems, CARE systems have few limitations and restrictions. Here are some of the important differences.


CARE sends daily checkup calls over multiple phone lines at once.
Answering machines do not need to be turned off by CARE recipients.
Greeting messages can be customized and randomized on a per subscriber basis.
Messages could include a reminder to take a medication.
Alerts can be sent by phone and email plus an alarm at the CARE monitor center.
First response can come from family members, friends, or volunteers.
The police or fire department can be primary or backup responders.
CARE can connect volunteers, family or friends for non-emergency conversations.
CARE phone can deliver emergency notifications to community members or staff.
CARE systems can be managed and monitored remotely.
CARE includes complete online progress reporting.
Systems can perform general voice broadcasting functions.
For a comparison with an older technology product, please visit the Older Technology Replacement web page. For a complete list of CARE features, view the following demonstration of our telephone reassurance phone system.
Contact Us Today
Contact DSC to learn more about our call reassurance services and phone systems.


---