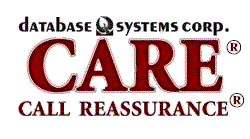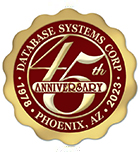 eCARE Service For Senior Church Members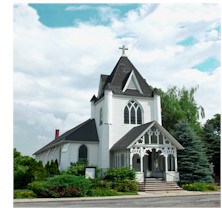 Database Systems Corp. (DSC) is a leading technology provider that develops and markets inbound and outbound calling solutions. The technology provided by DSC includes automated phone systems that perform voice broadcasting and automated call answering functions.

Churches throughout the country rely on DSC products to call members informing them of upcoming events and to perform announcements. These churches can now employ our Church CARE program to check up on their elderly members.

CARE (Call Reassurance) is a DSC product that calls seniors and other individuals who are alone at home. These calls check the well-being of these individuals. Calls are made daily to provide assurance that they are OK.
What Are eCARE Calling Services?
"eCARE telephone reassurance calls provide a safety reassurance for the elderly and vulnerable people, providing care and reassurance needed to allow them to remain living in their own homes."

DSC provides community programs that assist the elderly and home bound residents using our autodialers. This telephone reassurance program is known as CARE (Call Reassurance). Residents are called to ensure their well-being. If the CARE recipient does not answer the phone, an emergency dispatch message is delivered to either the CARE phone center or directly to a family member. The center is continuously updated to ensure a follow-up is performed and that the CARE recipient is OK.

Contact DSC to learn more about our eCARE telephone reassurance systems and services.
eCARE Video
Church eCARE Service For $9.95
You can create and manage a church eCARE account for free using our online registration process. Individuals enrolled through an eCARE account pay only $9.95 per month for our CARE services. With this account, you can enroll seniors and other community members using various different profiles:

Click on the Create eCARE Church Account link below.

Enter your organization's name, a valid email address along with your own password, and we will establish your eCARE account. eCARE can now be used as your primary calling program for seniors in your community or can be a backup to any other system that is currently making these calls. eCARE is a pay-as-you-go service and you only pay for the calls that we make.
Individual CARE Service Under $15/Month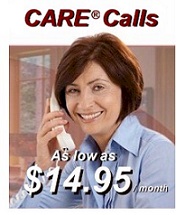 Besides CARE systems used by communities and service organizations, Database Systems Corp. provides a senior calling service directly to individual citizens. This service calls subscribers to ensure they are OK or to remind them to take their medications.
DSC partners such as senior community centers and law enforcment organizations can provide this daily check up calling service to their communities using our eCARE program. The following individual calling programs can be performed using our daily calling service.
Call Reassurance - Senior calling service
Latchkey Kids - After school call service
Reminder Calls - Send Reminders
Emergency Calls - Broadcast emergency message
Signup Today using our online registration form. Our online enrollment is easy, yet it provides the senior with flexible calling schedules, custom messages and greetings, as well as multiple emergency contacts in the event of no response by the subscriber.
---
Caregiver Technology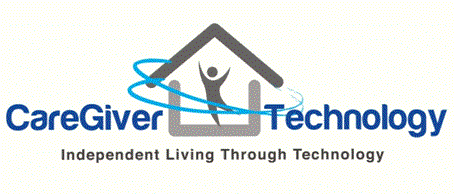 "I investigate assistive technology everyday and found that The CARE system and eCARE services from Database Systems Corp. provide an exceptionally economic method of ensuring seniors can live in their homes longer and safer. I am always looking for beneficial devices and systems that are easy for seniors to use and DSC delivers exactly that."

Joe Mac Adams, CSA
Founder CareGiver Technology

"CareGiver Technology is an advisor, educator and caregiver resource on the latest assistive technological products designed to help people remain independent and stay in their homes for as long as possible.

We serve those of advanced age and physically-challenged among us who want to take care of themselves effectively, the family caregiver of a loved one, the professional geriatric care manager, home health agency or community administrator. We constantly stay abreast of the latest and most advanced products in assistive technology."
---
Contact Database Systems Corp.
Contact DSC to learn more about our life check phone reassurance services and phone systems.