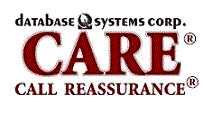 Telephone Reassurance Calls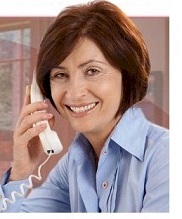 CARE (Call Reassurance) is an automatic calling system from Database Systems Corp. (DSC) that calls individuals on a daily basis to check on their well-being.

The CARE phone system is the latest generation of telephone reassurance programs and is one of the most important products that DSC provides to communities and senior service organizations.

CARE systems can also send emergency notification phone alerts to community members and likewise send automatic notices to seniors such as medication reminders.

CARE senior calling programs are widely accepted by many communities and are managed by city and county police departments or other public service CARE organizations.

Contact DSC to learn more about this important community service or to obtain additional information about our voice broadcasting technology.
---
Community eCARE™ Service
eCARE™ is an online service developed by DSC for community organizations or groups that wish to provide CARE services to their members. By creating an eCARE account, you can add one or more members to this account and manage individual schedules and call information as if you had your own CARE phone system. eCARE accounts are designed for groups who do not wish to purchase and maintain computers or lease phone lines. DSC does all of that for you.

You can create and manage a community organization eCARE account using our online registration process. With this account, you can enroll seniors and other community members using various different profiles:

Click on the Create eCARE™ Account link below.

Enter your organization's name, a valid email address along with your own password, and we will establish your eCARE account. eCARE can now be used as your primary calling program for seniors in your community or can be a backup to any other system that is currently making these calls. eCARE is a pay-as-you-go service and you only pay for the calls that we make.
Contact Us Today
Contact DSC to learn more about our call reassurance services and phone systems.


---